I've been in your shoes. The anxiety is unrelenting. So, perhaps you want to seek some health anxiety self help.  Because, on one level, you think you have some dreaded ailment or debilitating disease.  All you know is that your fear of having some dreadful disease is encroaching on every aspect of your life.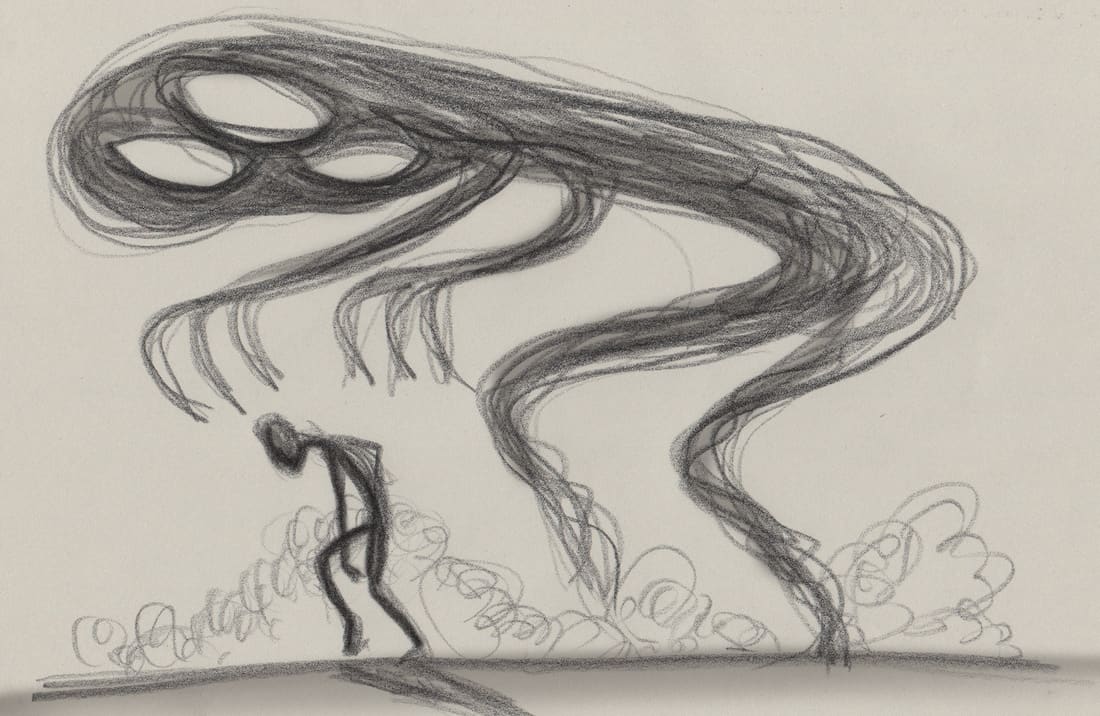 But somewhere in your brain, on another level, you know you're maybe being a bit irrational too.  After all, how many debilitating ailments have you thought you were experiencing in the past year alone?  Hell, nearly as soon as I got over my leukemia fears, I thought I had melanoma that had spread to my brain.
Free 30 Day Guide to Improving
Health Anxiety Symptoms
Manageable daily tasks you can try for the next 30 days to kickstart your path to overcoming hypochondria & health anxiety.
I lived this way for a decade, until I decided to get help for my health anxiety.
Obviously I'm a huge proponent of cognitive behavioral therapy for health anxiety, since it worked so well for me.  But, I wasn't doing in-person therapy only.  My therapist had me completing various workbooks in my time outside our therapy sessions.  She had given me progressive muscle relaxation audio clips, and had me completing "Thought Diary" worksheets.
Before before doing any of these things, see a licensed mental health professional to make sure these things are okay for you to pursue.
Health Anxiety Self Help Books
Although these are not specific to Health Anxiety, these worked wonders on my Health Anxiety and OCD.  These two books were the first ones that my therapist recommended to me:
The OCD Workbook.  What, you might ask, does OCD have to do with Health Anxiety?  Well, as I learned, a lot.  I didn't even know I had OCD until I started going to therapy.  I thought people with OCD needed to wash their hands all the time (I don't, I just have normal hygiene practices), check their door locks all the time (ain't nobody got time for that), or can't have a thing out of place in their home (ummm, my house can be a real mess sometimes).  But, this book taught me how to gain control over the constant, obsessive, anxiety-filled thoughts about my health.
Coping with Anxiety.  This was the second book that my therapist recommended to me.  This book is filled with short, information-filled chapters about different coping techniques for different types of anxiety.
 And, of course, after those two recommendations from my therapist, I started to go down the rabbit hole of Amazon's "Similar" and "Recommended" algorithms, bringing me to buy these other workbooks as well.
The Brain Lock and Rewire your Brain books, in particular, made me realize that just because I have been anxious about things for SO long, doesn't mean I was doomed to a lifetime of anxiety.  Quite the contrary. It reinforced in more detail the explanations my therapist was giving during my weekly sessions.  Our brains can be rewired.
Worksheets for Health Anxiety
My therapist had me maintain "Thought Diaries," which she also called ABCD sheets.  Here is a template for a Thought Diary.  And, here is one that contains an entry for a standard hypochondriac event that I used to experience.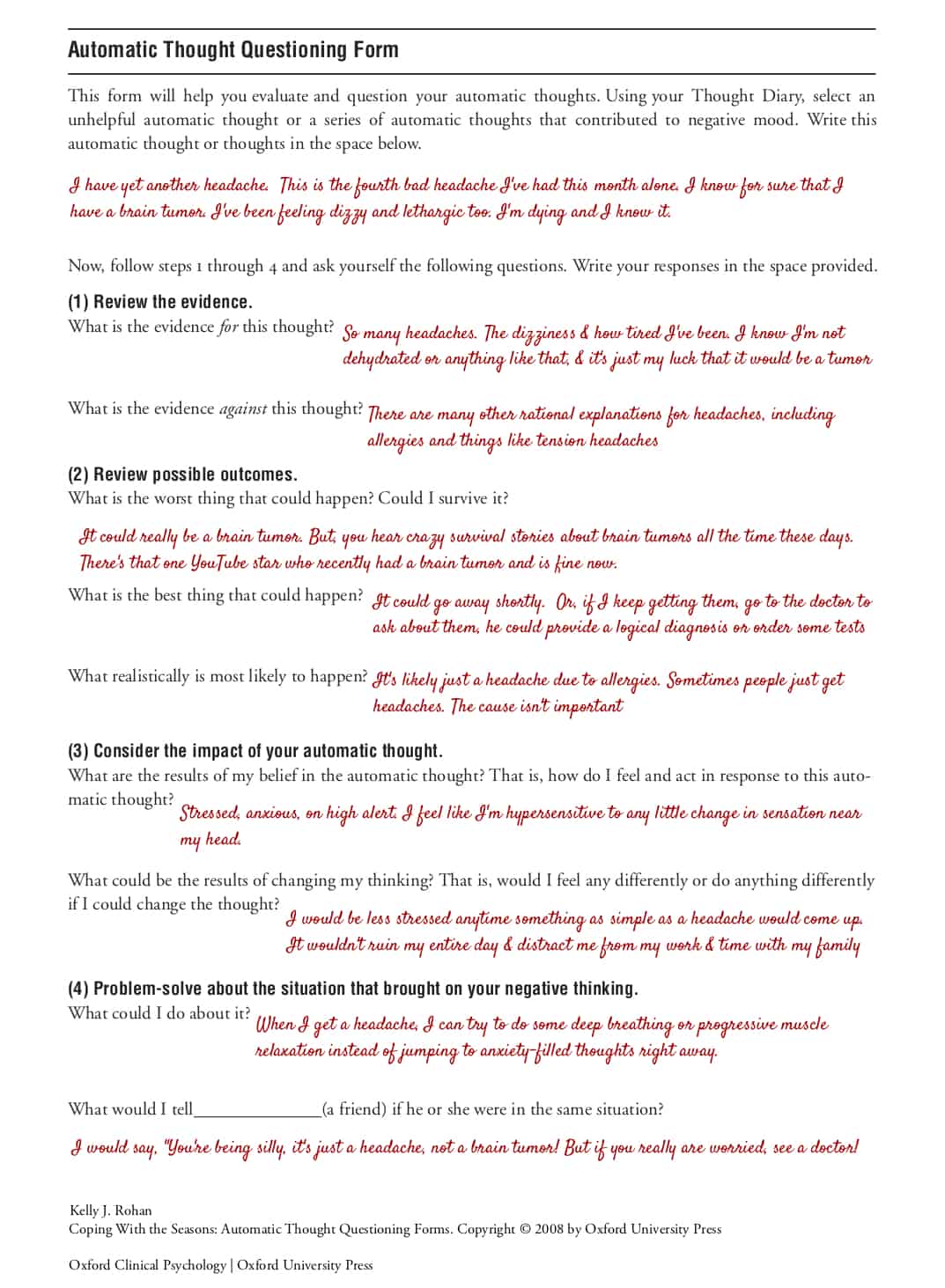 Here is another similar template for a thought diary.
Now, if you're anything like me, you're probably taking one look at these worksheets and saying, "Umm, yeah.  This looks like a load of unhelpful nonsense.  I already KNOW what my emotions are after an "activating event."  And I KNOW that I realistically don't have a blood clot / brain tumor / multiple sclerosis.  But that still doesn't help me from worrying that I DO HAVE IT."
Or, my immediate thought when my therapist recommended I fill out a worksheet every time I had a health anxiety-related thought:  "Ummm, I don't think you understand because I will literally have no time to do anything else with my life because I'll just be filling out these damn forms because I am anxious about my health all the damn time. Oh, and what I am I supposed to do when those health anxiety filled moments hit me when I'm at the store or in the car.  I mean, what am I supposed to do? Pull over and whip out a worksheet from my purse?  Umm, no, not gonna happen."
But, hear me out okay?  Just do them when you can.  And do them completely.  If you can complete them for every thought that you have that occurs when you're at home or at a desk job, then do them then, and don't worry about doing them when you're out and about.  But, when you are doing them, it's important that you write down the entries.  Doing it "in your head" doesn't work as well.  (I tried).
It's important that you do these though.  Over time (and it will be over time, it won't be overnight), you'll start to notice that your brain is "quieter" when you experience those random bodily sensations that trigger such intense anxiety.  Or, you'll notice you don't have as anxious of a reaction when you read a terrible GoFundMe page about some young person that has a terrible illness.  These worksheets were an important step for me in that process of "rewiring my brain."
Lifestyle Changes to Help Health Anxiety
These last few probably aren't surprises.  But, again, doing these things can add up to drastic improvements in your health anxiety.  You don't have to do each thing every day.  But, on occasion, take some time a few days a week to do a few of these things.
Journaling. Just plain old writing.  It doesn't have to be anything fancy or perfectly formatted in BuJo beauty.  It doesn't have to have elaborate water coloring.  Just sit down and write.  It's incredibly cathartic.  A simple Google doc, a cheapo notebook from Staples, or kick it up a notch with a Moleskine (my personal favorite) or a journal this one from SchaferArt Studio or this one from PortlandLeather, and jot down your anxiety-filled thoughts. Journaling and writing has been shown to help with symptoms of depression and can help tame distracting emotions.
Exercise.  Yes, we know.  Exercise can be incredible in combatting anxiety and depression.  But, somehow that explanation doesn't help get us off the couch.  Keep in mind that exercising can be as simple as a few jumping jacks or a walk around the block.  Sure, you can do some hardcore HIIT workout if you want.  But, just some simple movements can go a long way in improving your health anxiety symptoms.
Meditation.  Specifically, my therapist recommended that I do Progressive Muscle Relaxation when I started to experience hypochondriac thoughts.  Of course, me being a defiant smart-ass, I was like, "Ummm, well you can't have BOTH!  I can't do the Thought Diary Worksheets AND do progressive muscle relaxation at the same time."  So, she just smiled and said, "Mix it up."  Here are some good YouTube videos of Progressive Muscle Relaxation (you just have to listen, not watch).  Here (jump to about the 40 second mark), and here (about the 1 minute mark).
Eliminate caffeine and alcohol.  Okay, so the caffeine part makes sense, right?  But alcohol?  I mean, I feel SO much more relaxed after a few beers or a nice big glass of wine.  But, those effects were extraordinarily short lived.  In fact, using my Fitbit, I noticed that my resting heart rate was significantly higher the day after I drank alcohol compared to the days when I didn't drink alcohol.  And, guess what?  For me, a more rapid heart beat makes me feel more anxious and less relaxed.
Closing Thoughts – Stick with It!
Start with at least one of the above techniques, and try introducing one or more new technique every week.  It's important to note that it's important to try out several of these techniques, and stick with them for at least two months.  Because, frankly, they might seem pretty useless in the beginning (at least they were to me.  It took me a solid 6-8 weeks before I started seeing any improvement in my health anxiety symptoms).  And, of course, it's important to stick with the techniques even if you experience some setbacks in your progress.
What are you going to try first?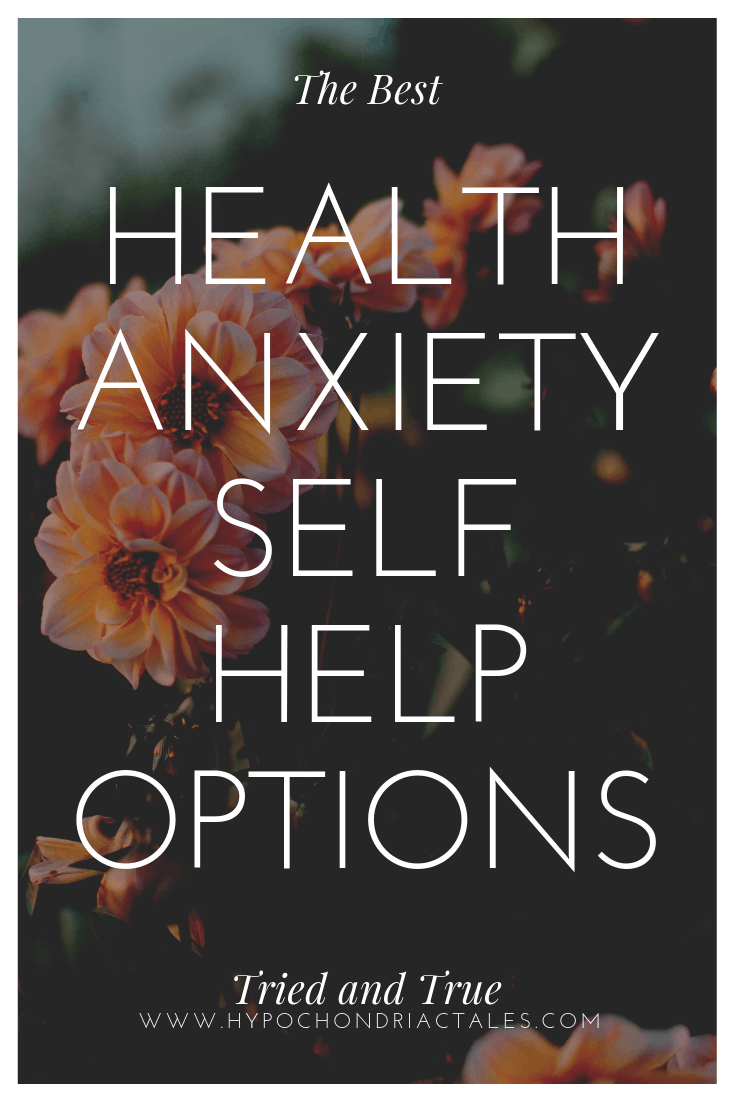 Want email notifications when I publish a new post? Sign up below!