In the two years after my gallbladder surgery, following which the surgeon innocently told me to "listen to my body," I was slowly taking that advice to an extreme without actually realizing it.
I'm not exactly sure of the precise timeframe, but maybe about a year after my 2005 gallbladder surgery, I saw that a friend of mine had joined a "group" on Facebook. (Facebook was still in its infancy then!).  The group was called something like, "Support So-and-So's Battle Against Acute Myeloid Leukemia (AML)." 
Or something like that.  I didn't know who the person was that had the actual cancer, just the friend that joined the group.
So, I was like, "Goodness, that sounds like a terrible disease.  Let me Google it."
In which I Believe I have Leukemia
By the time I was done reading basic information about AML, I was completely, totally, and wholeheartedly convinced that I also had it.  One of the symptoms of AML, (as I'm recalling from the symptoms that I read about back in 2006 or 2007), was the appearance of tiny red dots on your skin called petechiae.  As I read about that symptom, my heart felt like it stopped.
I had several of those red dots on my body.  I remember seeing them on several occasions, but never thought anything of them.  So, I start Googling about petechiae.  Then I remember reading, apparently the really "bad" petechiae are the ones that don't disappear when you press on them.  So, I pressed on my petechiae.
OH MY GOD MY PETECHIAE DON'T DISAPPEAR. THAT MEANS THEY'RE THE BAD ONES!
A Quick Caveat
I want to be clear about something here.  When I type things like this, using all caps, I realize that maybe it sounds like I was being "cute funny" or an "overly dramatic attention whore." Or, "Oh, here we go again, she thinks she's dying," as everyone says with a laugh.
There was nothing cute-funny or mildly adorable or endearing about what I thought was happening in my body. I legitimately thought I was on death's doorstep.
The Hunt for Red Petechiae
The petechiae became all consuming.  I hunted for those red dots all over my body.  When I saw one that I hadn't seen the previous day, I would torment myself over whether it had formed since the previous day, or if maybe I happened to overlook it during the previous day's inspection.  I kept convincing myself that I had just overlooked it, yet all the meanwhile not actually believing these "lies" that I told myself.  That I was lying to myself if I actually believed that the red dot was, in fact, a old petechiae that I had just missed.  Rather, it was a sure symptom of my leukemia "disease" progressing.
It was during this time that I started avoiding going to the doctor.  I had never been a doctor-avoider before. I think there were two thoughts going through my mind around that time about seeing a doctor:
You're being fucking insane, you lunatic twat.  If you go to the doctor and are like, "I think I have this rare type of Leukemia, can you test me for it," they are never going to take you seriously again.  You are fine.  You are not sick.  Pull yourself together and knock this shit off!
versus:
You think you're worried now?  Wait till you get that actual diagnosis of Leukemia and see how anxious you get! It's probably a death sentence anyway, so why even bother to go to the doctor.  At least now you have the hope and benefit of denial of it not being real.
I'm no Psychiatrist, but I'm pretty sure this is one of my Earliest Signs of OCD
For the next six months, I checked my body extensively for new petechiae.  I started a spreadsheet to track where on my body I was finding them. Entries included:
"Three inches down from acorn-shaped freckle on left upper arm."
"Underside of left boob. (visible only when looking directly at it in mirror unless you stretch your boob till it hurts)"
I remember one time when I was on the metro commuting to work, I was sitting behind someone who also appeared to have petechiae dots on the back of their neck. I told myself, "See, that person has petechiae and I'm sure that they don't have AML, right?  So, quit worrying."
Then I started staring at the backs of other people's heads, everyday, looking for other instances of red dots.  It didn't matter how many people I saw that had the same things.  I didn't make me feel any better.
Well, I'm not Dead, so I guess it's not AML
After six months of checking my body obsessively for red dots and overanalyzing any other little "symptom" of Leukemia and avoiding the doctor at all costs, all of a sudden, I stopped worrying about having AML.
During my extensive "research" of AML, I read that, left untreated, it would basically kill a person within six months.  I think I had internalized that information somehow.  And, after months and months of checking my body for symptoms and signs, I wasn't dead.
And with that, my obsession with AML ended.  And that, my friends, was 10 years ago.
But, it wasn't long before I started new health-related obsessions.
Headaches, Moles, and Melanoma
In a previous post, I mentioned how, after my gallbladder surgery, the surgeon came to see me the day after surgery to check in. To recap, he told me, among other things, that he was concerned about a mole on my abdomen and wanted me to get it checked out by a dermatologist.  I told him that I had had the mole checked out years prior, and that the dermatologist had just told me to keep an eye on it for changes, such as changing borders or getting bigger.  But, the surgeon said I needed to get it checked again.  But, I didn't.  Remember, my hypochondria didn't start to kick in until about 2 years after needing my gallbladder removed.
After I "recovered" from believing I had Leukemia, I began my new worry.
I started getting fairly regular headaches in late 2007.  They weren't particularly bad headaches, but they were constant. I mean, the first time I had one, it lasted for about two weeks.  Like I said, it wasn't bad pain, but it was just "there" all the time.
At the time, I was in "doctor avoiding" mode. So, every day that the headache was still there, I drove myself deeper and deeper into a panic, and not wanting to go to the doctor to get it checked out.
"Figuring it all out"
And then, I "figured it all out."  I convinced myself that the mole on my abdomen was in fact melanoma. And since I had let it go unchecked for so long, that the melanoma had spread to my brain.  And THAT would explain my two-week long headache.
(I later learned through therapy and in my OCD workbook that this is often referred to as "being prosecuted by the OCD attorney."  That, without a doubt, there is a preponderance of evidence to "convict" me of having melanoma that spread to my brain.  I learned that this is also part of my "magical thinking" elements of OCD. )
And then, one day, my headache finally disappeared. Okay, so maybe I don't have melanoma that spread to my brain.
But, two months later, the same headache returned. It was right around Christmas time in 2007, and I had thoroughly convinced myself that I wouldn't be around for Christmas the following year.  That I'd be dead.  That I should take all the steps I needed to spend time with my family this holiday season because it would be my last.  I'd almost certainly be dead by the following year after a painful battle against the melanoma that had spread to my brain.
A little aside here for a moment.  I was not saying any of these things to myself in any sort of sarcastic or tongue-in-cheek way.  I really, truly believed that I was dying. The emotions I was experiencing were so heavy and often unbearable. The headache was a constant reminder of my impending death.
Getting the Mole Removed
After the holidays, my headache finally ceased again, and my anxieties lessened. And within a few months, it was back.  This time, I decided I would go to a dermatologist to get the fucking mole tested and removed.  
I went and had the mole removed in early 2008. It was not melanoma. It was, however, dysplastic which meant precancerous.  Since the first cut that the dermatologist had removed had "involved edges," meaning that the precancerous cells were all the way to the border of where she cut, she had to go back and remove additional skin. After the second removal, there were no more involved edges, which meant that all the precancerous cells had been removed from the area around the mole.
It was a relief to have the mole removed, and I ended up being very thankful that my gallbladder surgeon had told me to get it checked out again. (And WTF to that dermatologist I saw as a teenager who just told me to "keep an eye on it."??? There had been zero physical changes to it, so that definitely wasn't working).  But, I could definitely rule out that I had melanoma that had spread to the brain.  So that left me back at square one with the headaches again.
But what about those Headaches?
I continued to occasionally get headaches over the next year.  Again, they were always mild, but constant and lasted for several weeks at a time.  I never did see a doctor about it.   Then, finally, they stopped.  I haven't had them in like eight years now, so I'm pretty sure they weren't brain cancer.  It doesn't do me any good to speculate any more, but about two months prior to getting the first round of headaches, I had switched to a new birth control. I had never had trouble with any sort of hormonal birth control before, so it never even occurred to me that maybe that was the culprit?  Or maybe it was plain old tension headaches caused by the new obsessing about my health.  Either way, I'll never be sure since I never went to the doctor.
But, this incident, which immediately followed my obsession of having a rare type of Leukemia, seemed to settle my designation of being a hypochondriac.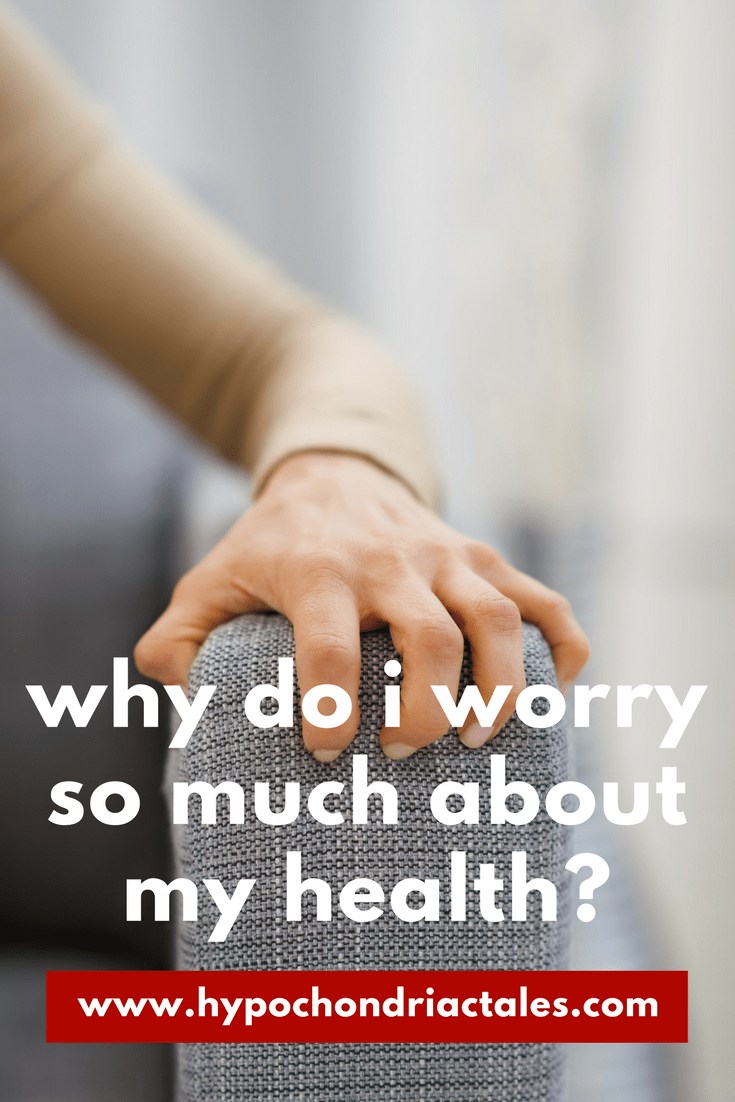 Want email notifications when I publish a new post? Sign up below!