During the therapy I was seeking for my Health Anxiety OCD, I also asked for help with another somewhat big fear I have, and that is the fear of flying.  But here's the rub about my fear of flying.  I flew ALL the time.  Well, maybe not all the time, but probably at least 15-20 flights per year.  That's more than once per month on average.  And, I had been flying since I was a young child.  My dad worked in the airline industry, which meant we flew for free, and man, we always did fly.
But flying, especially since my late teens and early 20s, caused me excessive anxiety.  For the most part, I'd be okay during cruising as long as the flight was smooth. But throw in even the slightest bit of turbulence, and I was a wretched mess.
Reading the "Statistics" and Being Rational Never Helped
Yes, I know that turbulence has never caused a flight to crash.  Yes, I know that millions of people fly EVERY DAY without incident.  Yes, I know that flying is the safest form of transportation. Yes, I know that I'm more likely to be killed by a lightning strike than an airplane crash.  It didn't matter how many statistics I read about the safety of flight, it just made me so nervous.  But, I figured since I still "faced my fear" and flew, that it was "okay."  It wasn't like I was avoiding flying or anything just because of my fear.  Nope. But damn, any fun vacation was always preceded by my dread about the flight to get there.
I also figured I was a lost cause.  Because so much of CBT is "exposure" therapy, I just figured that I was destined to be a nervous flyer for the rest of my life. Because, obviously, flying frequently had not eased my fear one iota.
But, I figured it was worth asking about in therapy.  Especially since I learned in my first therapy session that irrational brains are not receptive to rational explanations.
Can CBT Help my Fear of Flying
Dr. Lindo said that it could very well be the case that my OCD anxieties also extend to flying, not just health anxiety. She asked me how I currently handle my flying fears.  I said that mostly I just try to distract myself with puzzle books, coloring books, or knitting. I explained that many years ago, I had mentioned my flying anxiety to my primary care doctor.  My PCP prescribed Xanax, which did absolutely nothing.  So, the doctor prescribed Ativan next.  It helped only very slightly, and I had to make sure to take it on an absolutely empty stomach otherwise I wouldn't feel any different.  Plus, the effects were very short lived.  So, I had pretty much given up on any sort of anxiety medication.  If I was anticipating a turbulent flight, I'd usually just hit up the airport bar instead.
The next time I flew, Dr. Lindo instructed me, I should write down all the thoughts that were going through my head.  
Anxious Behaviors while Flying
Armed with my newly identified knowledge of compulsions and how they feed anxiety, I could not believe how many little compulsions I was engaging in while flying.
Prior to boarding, I realized I tried to eavesdrop on the people arriving on different flights, and trying to "read" their expressions to tell if the flight they were just disembarking was overly turbulent or otherwise scary.
After boarding the plane, I checked turbulenceforecast.com and multiple weather and radar reports to try and "predict" how much turbulence we might experience.
As we took off and my body pushed against the seat, creating a bit more room between my hips and the seatbelt, I tightened my seatbelt.

 

This is something I do on every flight.
As soon as the wheels had left the ground, I checked what time it is, that way I could count down how much time was left on the flight until we landed.
During the flight's ascent, I looked out every window I could, looking for clouds that might cause the flight turbulence.
I had my cell phone on the tray table during drink service.

 

We started to hit some turbulence, and I put the phone in the seat back pocket, worried that my phone could become a dangerous projectile if the turbulence got worse.
This is just a small excerpt of the crazy things I realize I did on the plane.  When I read the entire list back to Dr. Lindo during my therapy appointment after the flight, we talked about how each of those actions I took was not easing my anxiety.  Although I thought that if I could see the clouds and anticipate the turbulence that somehow would make me calmer, but it doesn't.  Things like tightening the seatbelt on takeoff, checking the weather forecasts, and putting my phone away were all compulsions that did nothing but feed my anxiety.
Much like the way I tried to explain the Googling my symptoms can be "helpful" to me, I tried to explain that checking the weather forecast and turbulence forecast made me feel better.  That, if we did encounter strong turbulence, I'd know that other planes had been experiencing turbulence in that same area throughout the day, and that they all managed to land safely.  I revealed to her that I often start checking the weather forecast 7-10 days prior to a flight, hoping so much that it wouldn't be cloudy, stormy, and/or windy on the day I was flying.  I'd check the weather forecast at least once per day leading up to my flight.
She reminded me.  "You're checking again."
Dr. Lindo also explained that this, like my health anxiety symptoms, would also not be helped by "rational explanations."  So, it didn't matter how many times I told myself that flying is the safest thing ever and that planes don't crash in turbulence, that I should not expect it to help.  There's too much "lizard brain" in play, shutting off my ability to think reasonably and rationally when thinking about flights and turbulence.
Actions I took to Ease my Fear of Flying
Unlike health anxiety and hypochondria, where it's fairly difficult to engage in "exposure therapy," and instead having to do imagined exposure, there were multiple things that I could do to help my fear of flying:
Control my compulsions before and during a flight.
Watch YouTube videos of excessive flight turbulence and practice deep breathing throughout the video.

 

I should watch each video over and over again, recording my SUDS rating before and after each viewing.
Use imagined exposure and recordings of scenarios of increasingly distressing scenarios, while practicing deep breathing during the recordings.
It's now been nearly a year since talking this over with Dr. Lindo.  And, once again, simply controlling my compulsions (response prevention) following anxious thoughts have led to a dramatic improvement in my fear of flying and turbulence.  I am still not completely at ease while on a flight, but I don't think I realized how much anxiety doing things like constantly moving my head around looking out the window for clouds, or continually tightening my seatbelt actually made me feel worse.  By not doing those types of things, I'm significantly calmer during flight.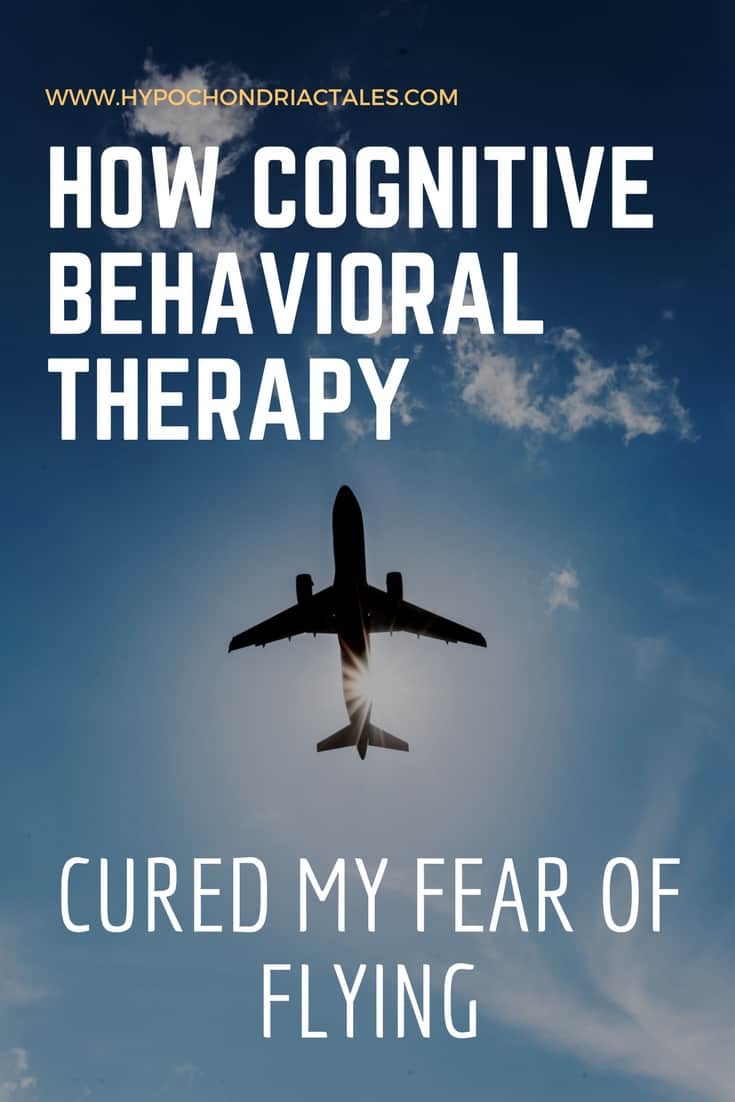 Want email notifications when I publish a new post? Sign up below!