"Please, for the love of god, just don't let her tell me to try deep breathing. It's fucking useless."
That is pretty much the only thought I had going into my first therapy appointment.
As I entered therapist's office, I scanned the room and thought to myself, "Oh, there really is a couch. I thought maybe the couch was just an urban legend. Tony Soprano sat on a chair when he talked to Dr. Melfi."
Free 30 Day Guide to Improving
Health Anxiety Symptoms
Manageable daily tasks you can try for the next 30 days to kickstart your path to overcoming hypochondria & health anxiety.
I expressed my thought out loud.  "Should I just sit right here?" I asked, pointing to the couch.  I left out the part about The Sopranos.
The therapist said yes, and so I sat, feeling tense.
The atmosphere is much cozier than I expected. Dim, warm lights. A Himalayan salt lamp.  Some sort of small fountain making water flowing noises.  But, I still felt uneasy.  I was sitting straight up on the couch, not allowing my back to relax.
"So, how does this work? Do I just sit here and tell you my problem?" I asked.
"Yes, at least at first. Then we'll move on from there," Dr. Lindo replied.
"That must get depressing," I said. "A career where you have to listen to people complain all the time. That sounds so … demoralizing."
Fuck. I've already insulted my therapist. Quit being so weird and just blurt it out.
"So, for about the past 10 years, I constantly seem to think that any little ache or twinge in my body is a sign that something is seriously wrong with my health and that my death is imminent."
I explained to her what my final straw was in finally seeking therapy. And how the hypochondriac thoughts were starting to become so overwhelming and intrusive, that I was having trouble concentrating on things other than how I was imaginary-dying.
The words really started to spill out now. Word salad.
It's Stupid, I Know
I kept apologizing to her.
"I know there are people with real problems, and that me and my imaginary illnesses is laughingly dumb, but I just can't help it! I know it's so stupid! In the past, I've tried to be rational and just say, 'Look, it is phenomenally rare for a 35 year old to get a blood clot. I am certain that that pain in your calf is because you tried to exercise yesterday and isn't a blood clot.' But, for some reason I can't listen to the more rational thought!"
The Questionnaire
After several minutes of trying to summarize the past decade of my hypochondriac anxieties, Dr. Lindo said she had a standard questionnaire that she wanted to administer, and asked if she could begin asking the questions.
"Sure," I replied.
We began our Q&A:
Do you ever lose time? No.
Are you easily startled? Sweet jesus, yes.
Do you ever have thoughts of self harm? No
Do you have hobbies? Yes, lots.
Do you replay unpleasant experiences or conversations in your head? Uhh, yeah.
Have you ever had a panic attack? I'm not sure.
Do you have any physical manifestations of anxiety or worry? Yes. I seem to get diarrhea almost instantaneously when I get overly anxious.
I can't recall all the questions. But there were a lot, probably at least 20 minutes worth.
And then there was a big question.
Have you ever experienced emotionally traumatic events?
I paused. I prefaced my response. "Okay, yes, I have experienced some significant emotional trauma in the past few years. But, I don't want you to think that my hypochondria is related to any of that trauma or was caused by any of that trauma. I've been a hypochondriac for a lot longer than when these emotionally traumatic events started occurring, okay?"
Dr. Lindo didn't respond beyond a brief nod. She was in solid questionnaire recording mode.
"Three years ago my mom died in a car accident. My dad was also seriously injured in the crash. Ten months ago we found out that a relative had been sexually abusing our six year old niece, and just started his prison sentence two days ago. And my 91-year-old grandmother died two months ago. My mom was her only child, so it was up to me and my sister to take care of our grandmother. I watched my grandmother wither away to practically nothing as her body held onto life for no discernible reason, and then she just … expired." Died didn't quite seem like the right word there.
There was a pause.
"But please, I'm coping with the emotionally traumatic experiences. I want help for my hypochondria," I stressed.
The questionnaire continued.
Have you ever sought therapy before?
"I went to two sessions of grief counseling about a month after my mom was killed in the accident. It wasn't what I was expecting, so I stopped going. That therapist expressed disbelief that my family was being supportive. It was like I couldn't reiterate it enough how supportive my husband was being, my sister, my dad, etc. She kept probing. So I stopped going. It was weird"
After several other topics, the questionnaire ended, and Dr. Lindo put away her questionnaire paperwork.
The Main (Amazing) Takeaways
We were reaching the end of the one hour session, but before it ended, Dr. Lindo briefly explained three things that made me think, "Wow. Maybe this therapy thing will work out after all."
She told me that:
I have, slowly and over the course of nearly a decade, "trained my brain" to overreact to normal bodily sensations. The therapist said that cognitive behavioral therapy will be the gradual process of "fixing the wiring" of my brain and training my brain to NOT overreact. Just like I trained it to overreact, I can re-train it to be calm in response to bodily sensations.
Rational explanations and facts are useless when trying to help irrational thought. Attempting to be rational does not help people with a brain that has been trained to be irrational. Instead, I'll have to use other approaches, and that'll take practice and real world application. So, it makes sense that, in the past, when I've tried to apply rational thought (you probably just pulled a muscle. You're too young for a blood clot), that it wasn't helping my anxiety.
I need to stop calling my symptoms "stupid." Toward the end of my first therapy appointment, the therapist pointed out that I said the word "stupid" or "dumb" or had some sort of apology more than 25 times. She explained that calling my problems "stupid" might actually be harmful and prevent my brain from accepting that I have a real problem that needs to be fixed. Therefore, my brain might just be thinking of it as an annoyance to be tolerated instead of problems that can be addressed effectively. So, she instructed me to stop calling my problems stupid as another step to "train my brain" to be receptive to solutions.
There you have it.  My first therapy appointment, in a nutshell!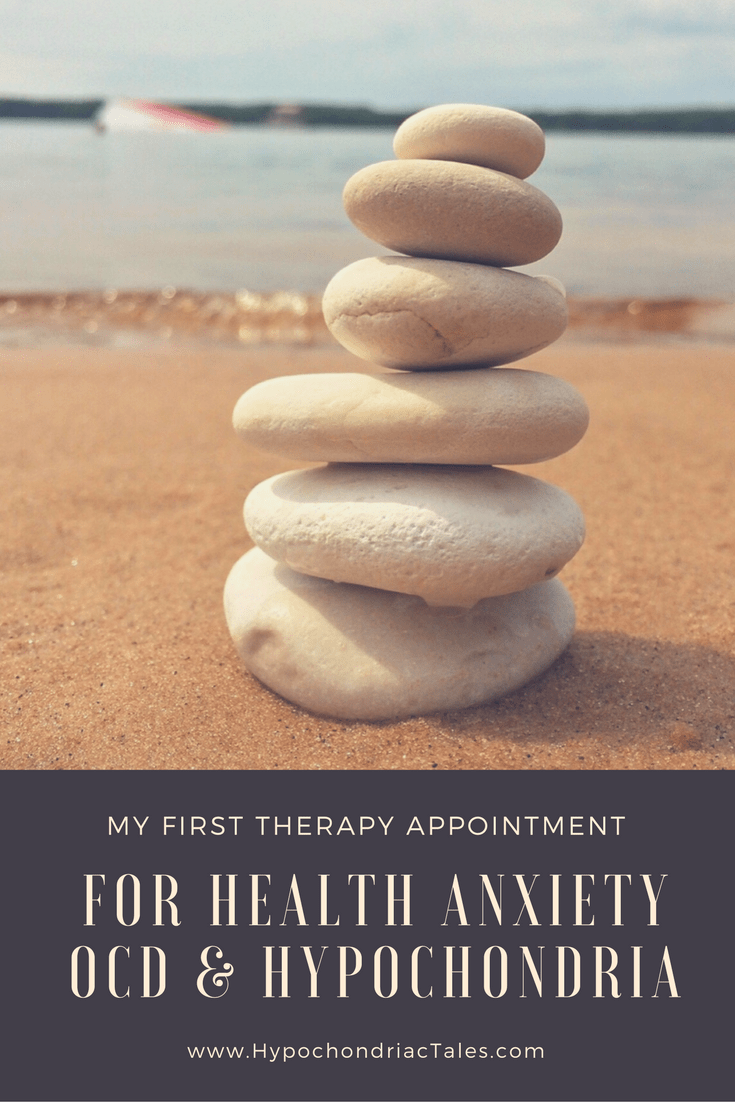 Want email notifications when I publish a new post? Sign up below!